| Model | HWI 155 / HWI 355 |
| --- | --- |
| Max Temperature | 380°C |
| Max Weld Length | 155mm / 355mm |
| Power | 500 watt / 1000 watt |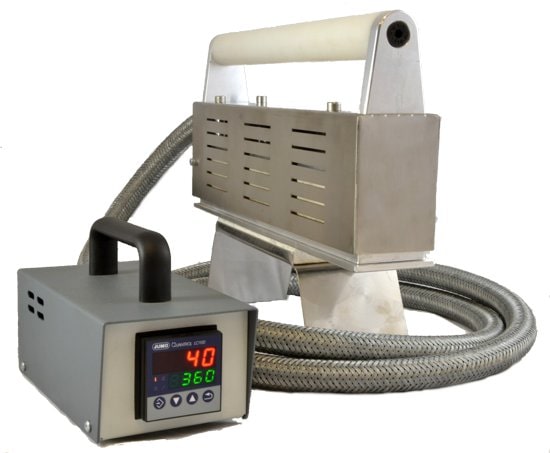 We manufacture two sizes of PTFE coated fabric hand held welders in two platen lengths. The short size in 155mm long (HWI 155) and the longer version is 355mm long (HWI 355). Both widths of platens are 55mm.
The shorter unit is generally used by PTFE belt producers and end users. The iron is ideal for making small joints on PTFE belts in situ on a machine or welding patches to belts that have been running on machines and are in need of a quick repair. This size of iron uses a 500w element and is very light at just over 2.5kg in weight.
The larger PTFE welding iron can be used for the same as the shorter unit but is generally used for manufacturing and patching PTFE coated architectural membrane structures. This iron used a 1000w element and weighs less than 4.5kg which is extremely light weight for its size.
Full operation manuals are provided with our irons and onsite training can be provided if required.
Each unit is also provided with a convenient stand that allows for safe positioning whilst not in immediate use.
We offer both 110v and 230v depending on your preference and are operated from a separate control unit. We specify and use Jumo controllers due to their high quality and durability.
This equipment and all machines we manufacture have protected Intellectual Property rights and Copyrights owned by Techbelt Ltd. and cannot be copied in anyway. By purchasing this equipment you agree not to make any copies or supply information to any third parties that will allow them to make such copies.