| Model | AMW-1200 |
| --- | --- |
| Max Temperature | 500°C |
| Max Weld Length | 1100mm |
| Power | 4.8kw |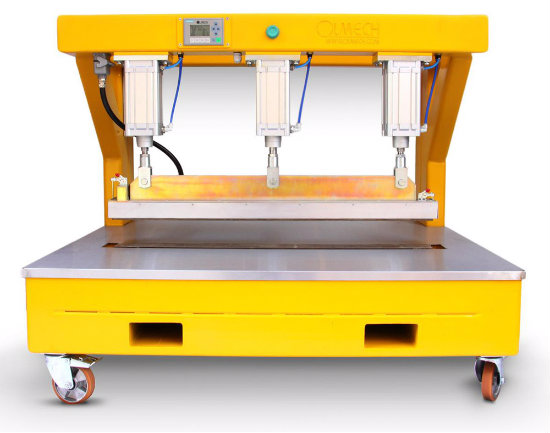 Techbelt has developed the PTFE architectural membrane welder to provide a user friendly solution for welding the seams of PTFE & silicone coated materials specifically used as architecture tensile structures. Tensile shades and roofing membranes have become increasingly popular being incorporated in to some of the world's most impressive architectural designs. As such a prominent feature of modern architecture, quality and fabrication techniques cannot be overlooked. The importance of using high quality materials is key on such a noticeable detail and the need to have technically advanced equipment to ensure manufacture is carried out with maximum effect is a crucial.
The design was born out of a customer's requirement for a piece of equipment that would be easy to use, reliable and ergonomically friendly. Through discussion and understanding the customer's processes and fabrication techniques we went on the developed the welder which has a temperature range up to 500°C allowing the vulcanising of both silicone and the much higher temperature PTFE (Polytetrafluoroethylene) coated materials.
The frame design is a low profile allowing easy loading of materials through the press and is designed to be both light weight and manoeuvrable. It is also very rigid resisting deflection from the pressure generated when the pneumatics close the platens together. A key feature of this particular frame are the built in forklift points visible from the front.
This equipment and all machines we manufacture have protected Intellectual Property rights and Copyrights owned by Techbelt Ltd. and cannot be copied in anyway. By purchasing this equipment you agree not to make any copies or supply information to any third parties that will allow them to make such copies.