| Model | HWI 155 / HWI 355 |
| --- | --- |
| Max Temperature | 380°C |
| Max Weld Length | 155mm / 355mm |
| Power | 500 watt / 1000 watt |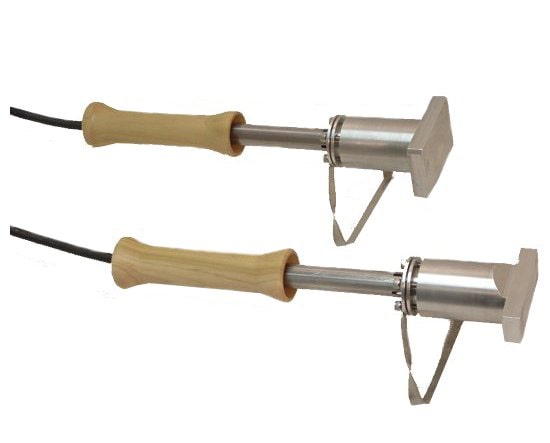 The PTFE patching iron is ideal for bonding and welding small patches to conveyor belts that are in need of quick repair whilst on the machine.
Our most common / stock version has a 75mm (3") round diameter head and can be supplied with our pre-cut patched to suit if required. It is also offered in either 110v or 230v versions.
The handle is made from wood as standard, however if you are intending to use it on a controlled food production environment where wood is not permitted, we can supply the iron with a white Nylon handle.
There is no control unit with this iron. The temperature is automatically reached and the iron can be left on all day if required in a safe place ready to use when required.
For conveyor belt producers, it can be used for tack welding PTFE conveyor belts together prior to welding in our belt edging press which can be viewed on this website.
The iron has a metal wire stand attached so it can be placed down and ready for use.