| Model | BEP-1500 |
| --- | --- |
| Max Temperature | 380°C |
| Max Weld Length | 1500mm |
| Power | 4.6kw |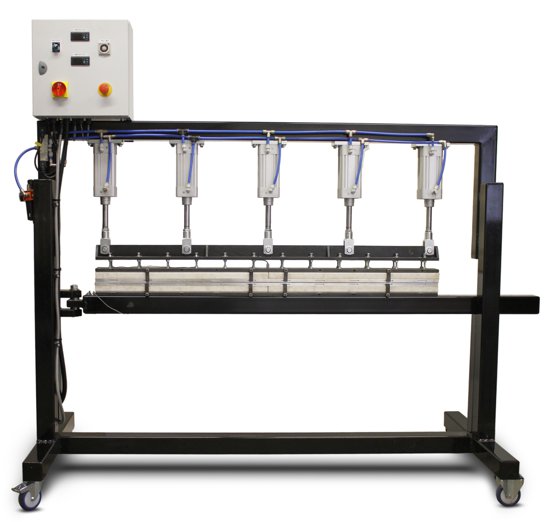 Our PTFE belt edge welding press is designed for PTFE belt manufacturers and products who wish to weld and reinforce edges of PTFE conveyor belts. We have developed this machine over time as we use these machines for our belt production.
The platens design in such that it offers a flat and true weld and allows for the natural thermal expansion seen in aluminium which is the material used for the platens. The standard length of the platens are 1500mm but can be offered shorter of longer if required.
Powerful heating elements are used to allow for efficient heating with no loss of heat when in use and come in 110v or 230v upon specification.
We specify Festo pneumatic cylinders as they are high quality and can withstand the temperatures they are in close proximity to.
In addition to being able to weld belt edges due to its offset platen design, the lower beam can be swung out to allow for belts to be slide on and off the platens. This means belt joint can be sealed on the welder and slid off easily.
The control panel is mounted on the machine and allows the user to set top and bottom platen temperatures as well as set the weld time (the amount of time the platens are closed).
The operation start is offered in both a foot pedal format or a due button press for safety.
This equipment and all machines we manufacture have protected Intellectual Property rights and Copyrights owned by Techbelt Ltd. and cannot be copied in anyway. By purchasing this equipment you agree not to make any copies or supply information to any third parties that will allow them to make such copies.