| Model | PBW-2650 |
| --- | --- |
| Max Temperature | 380°C |
| Max Weld Length | 2650mm |
| Power | 6.8kw |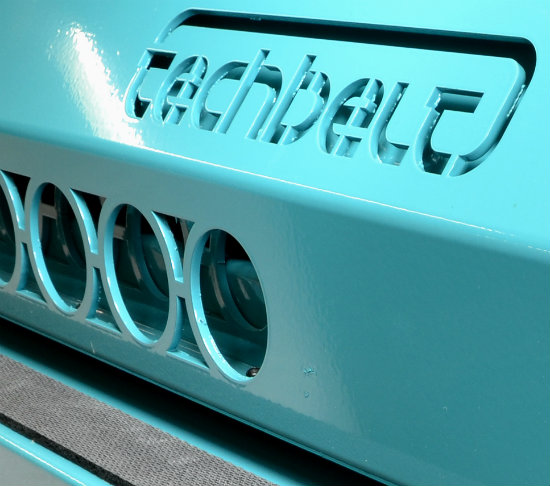 The PBW 2650 portable belt welder is designed to fuse and join together PTFE coated fabric conveyor belts up to 2650mm in width. The machine is easy to move and can be carried by two people in to position.
It can join PTFE belts that are used on machines that laminate and cure carpet tile to rubber backings. These are generally around 2000mm to 2400mm wide which is ideal for this machine length.
Other industries that benefit are beverage can manufacturers. PTFE mesh belts are used on lines that cure beverage cans once lacquer has been applied to the inside of the tin. By using the PBW2650 welder, smooth joints can be manufactured in order to allow smooth transition for one belt /process line to another. There is minimal interference between can and belt surface.
Different lengths can be manufactured if 2650mm is not required. A common width is 1250mm for narrower belts. We can manufacture these portable welders to your specific size upon request.
The basic function of the machine is that it will weld a belt on in place in an automated cycle. Simply press the start button and the whole operation will weld the joint automatically from start to end. The cycle time takes less than 30 minutes from starting cold to being able to take the joint out of the press.
Our equipment is CE marked giving you piece of mind that it has been manufactured to standard considering all aspects including health and safety. An operation manual is supplied with each unit and full training can be provided with a site visit if required at an additional cost.
This equipment and all machines we manufacture have protected Intellectual Property rights and Copyrights owned by Techbelt Ltd. and cannot be copied in anyway. By purchasing this equipment you agree not to make any copies or supply information to any third parties that will allow them to make such copies.